Regular price
Sale price
£34.79 GBP
Unit price
per
Sale
Sold out
The 'Rail Stay' is an innovative clamping system, designed to be used in conjunction with guide rails. They add a new dimension of capability to your guide rail and plunge saw.

Whether it be simply scoring plasterboard or re-sawing sheet material in a hallway or up a scaffold, the Rail Stay is a must! Allowing users to make cuts in positions previously only possible when bench mounted or previously considered simply too time consuming to achieve. Use of the Rail Stay often removes some aspect of material handling from the task.

The Rail Stay has been designed and manufactured in the UK.
Main applications:
Cross and rip cut timber sheet materials, leaning against a wall or other vertical surfaces.
Score plasterboards, leaning against a wall or other vertical surfaces.
Trim openings in vertical situations, where standard clamps wouldn't be an option.
Safe trimming of doors in situ, after a carpet install.
Avoid reliable British weather with the option of working indoors.
Save up to 8m² of working space indoors and reduce material handling
Able to leave the rail attached to the work piece and rotate freely without the clamps becoming incumbent to the bench.
Rail Stay clamps are compatible with the following brands of guide rail:

Festool
Makita
Metabo
Milwaukee
Triton
Sheppach
Erbauer
Evolution
Share
View full details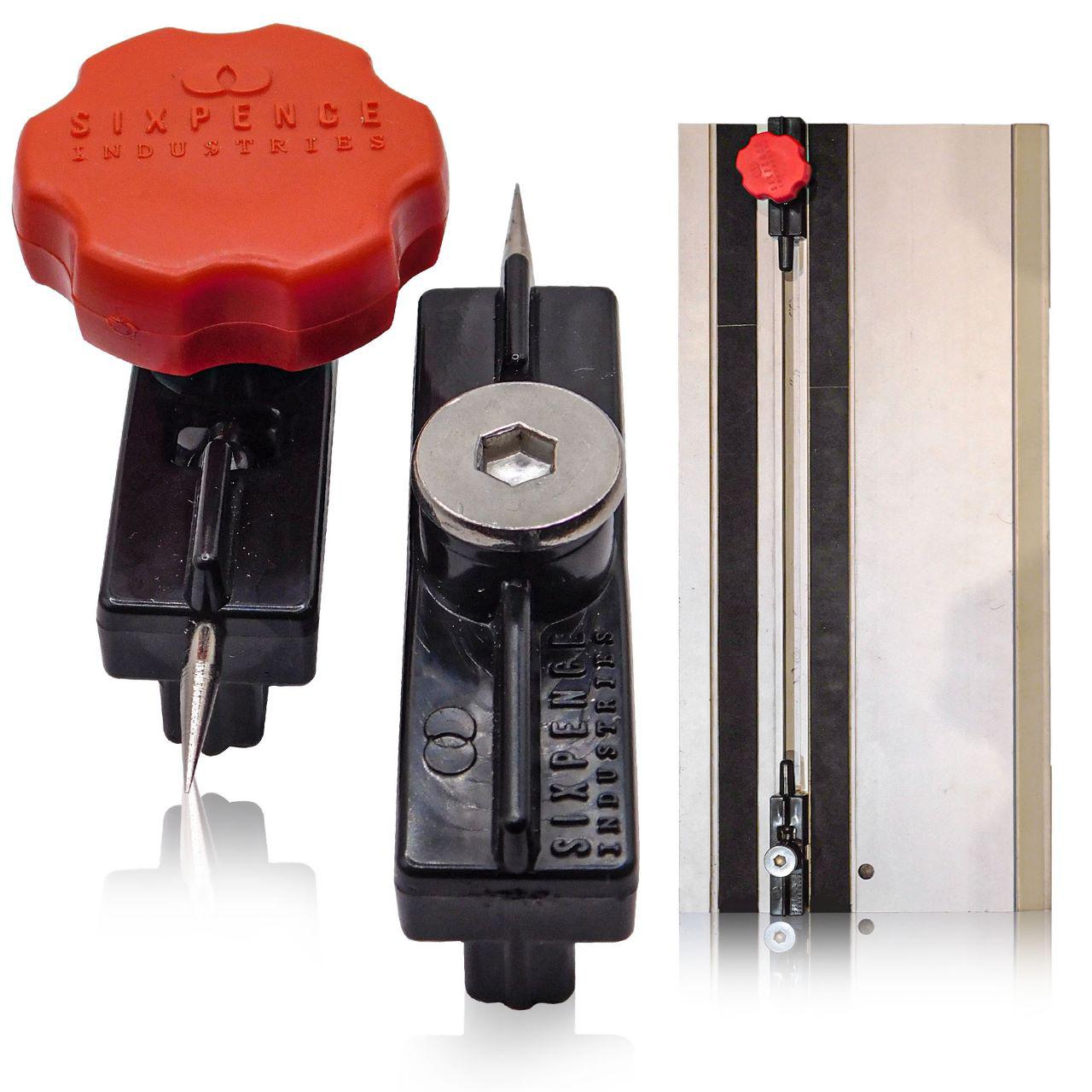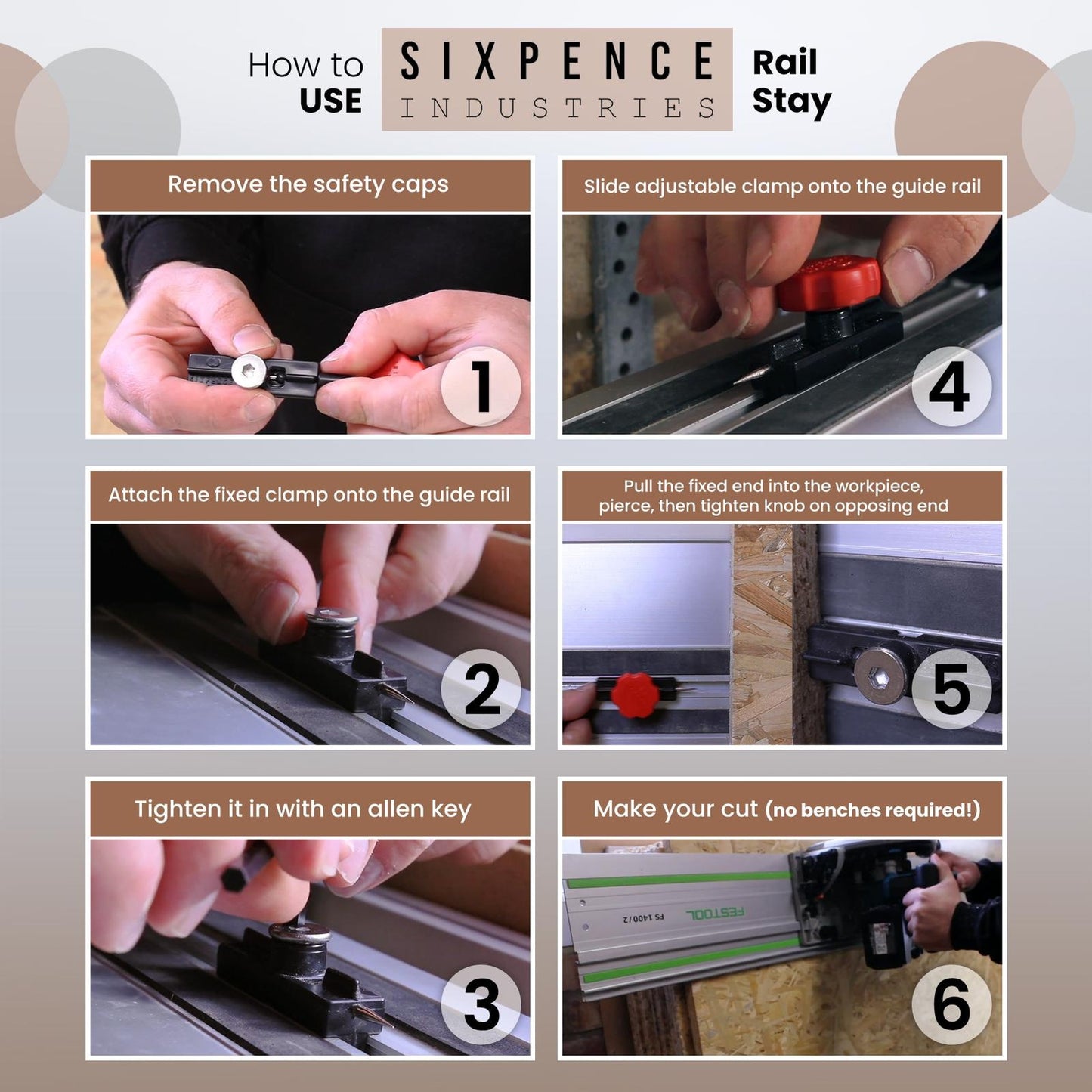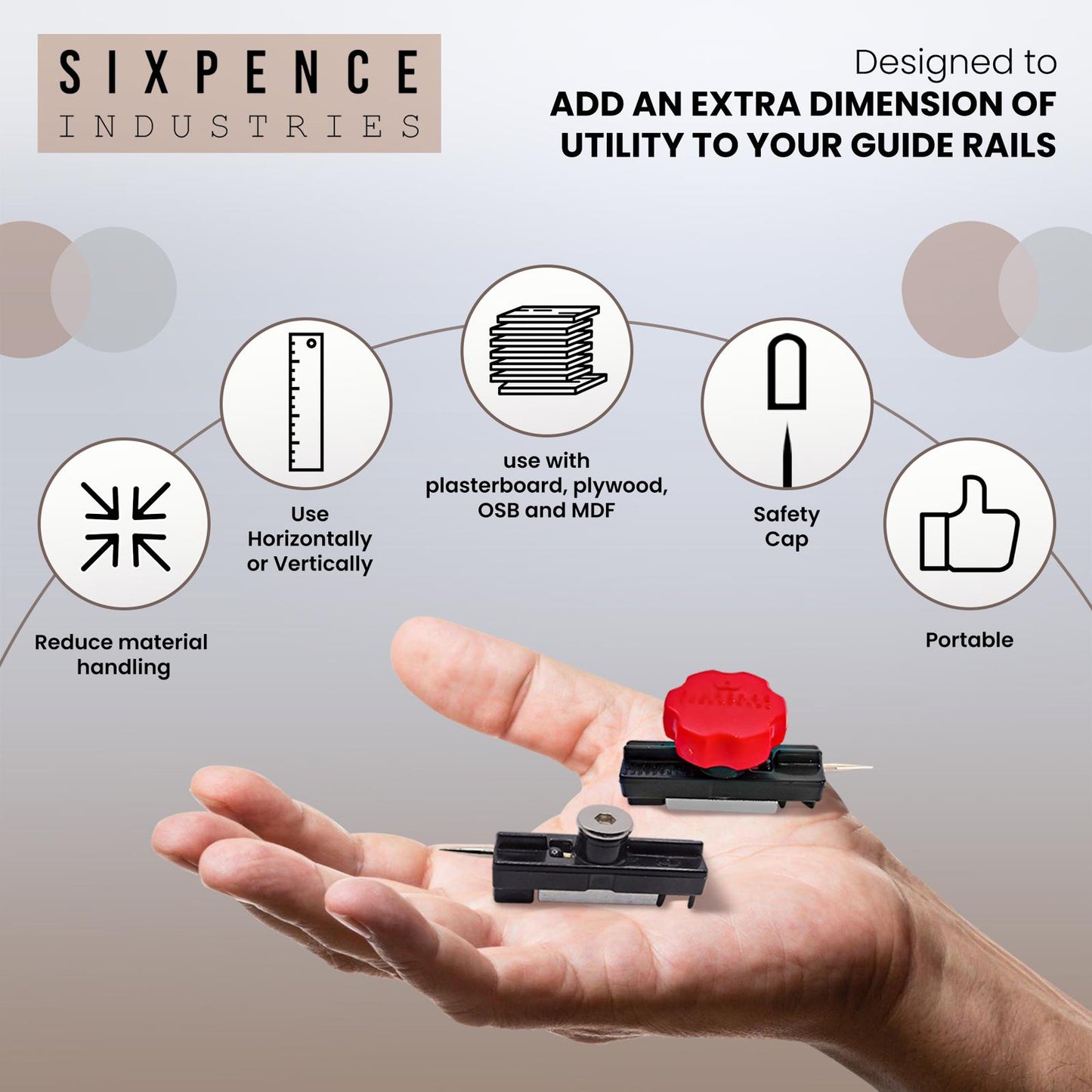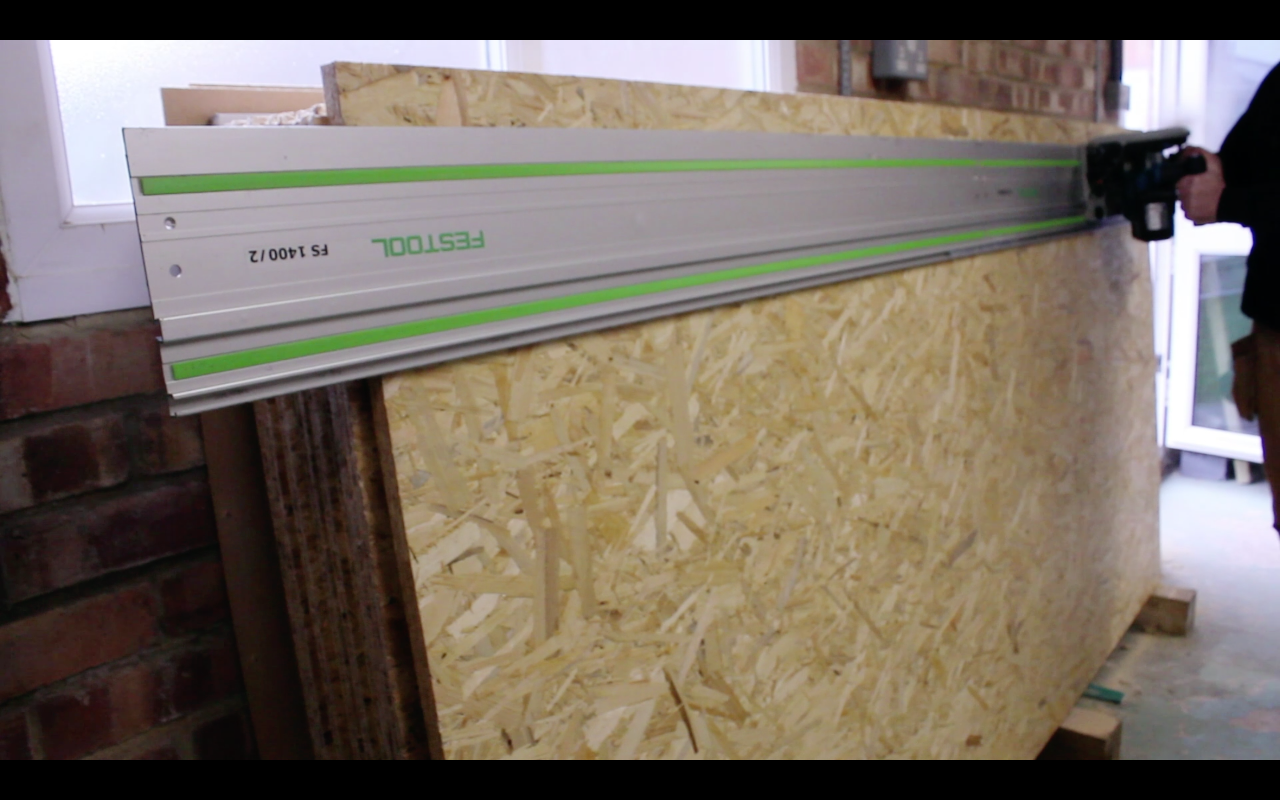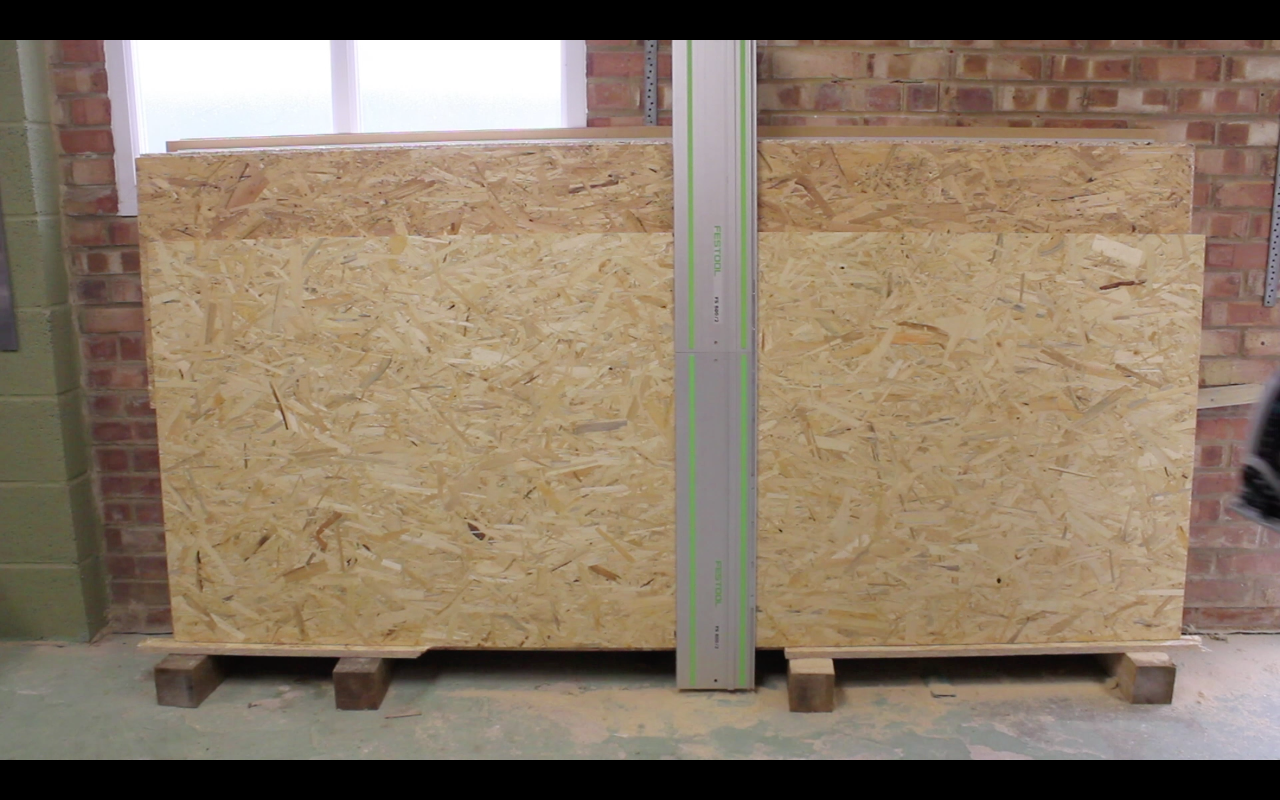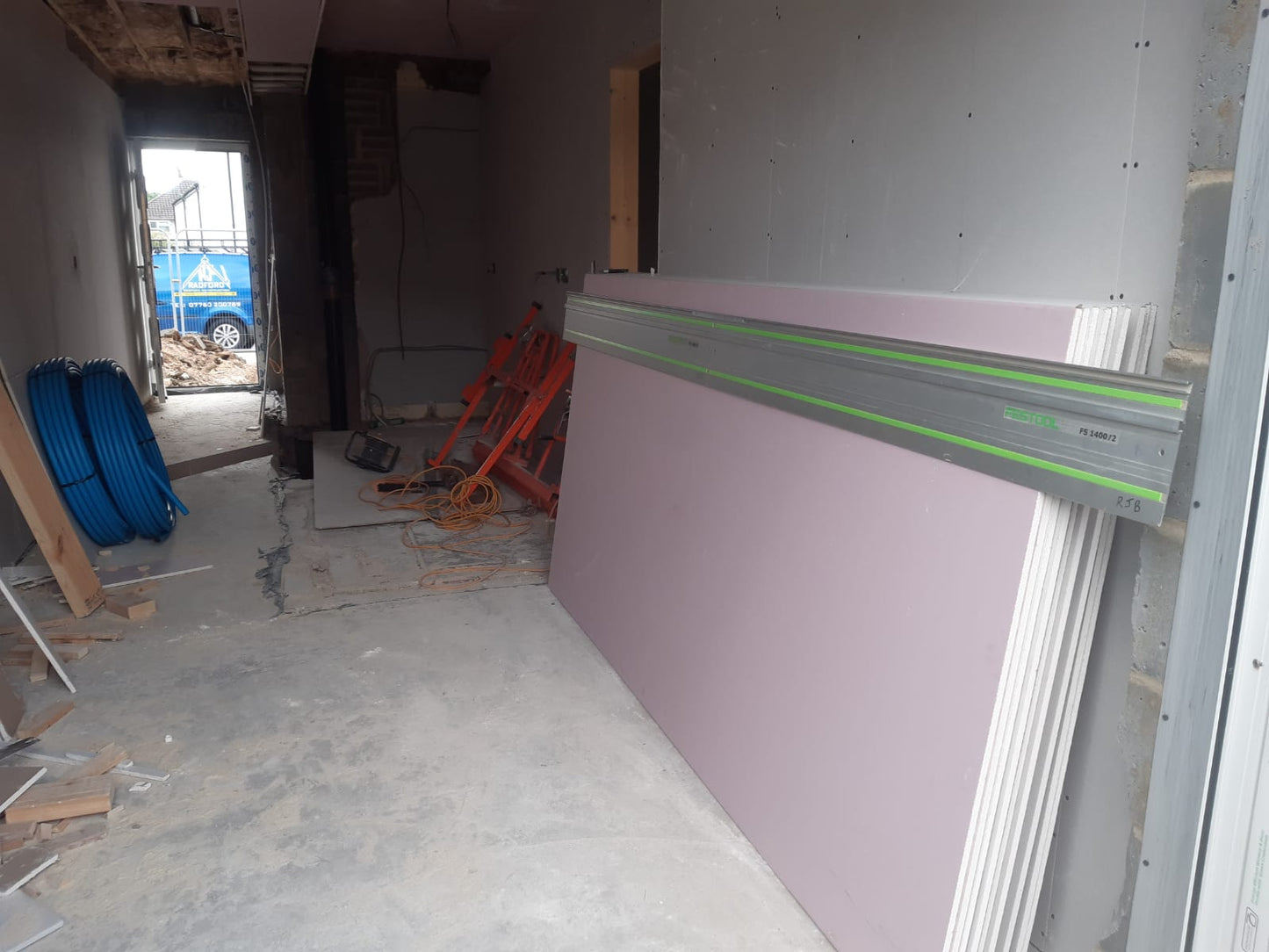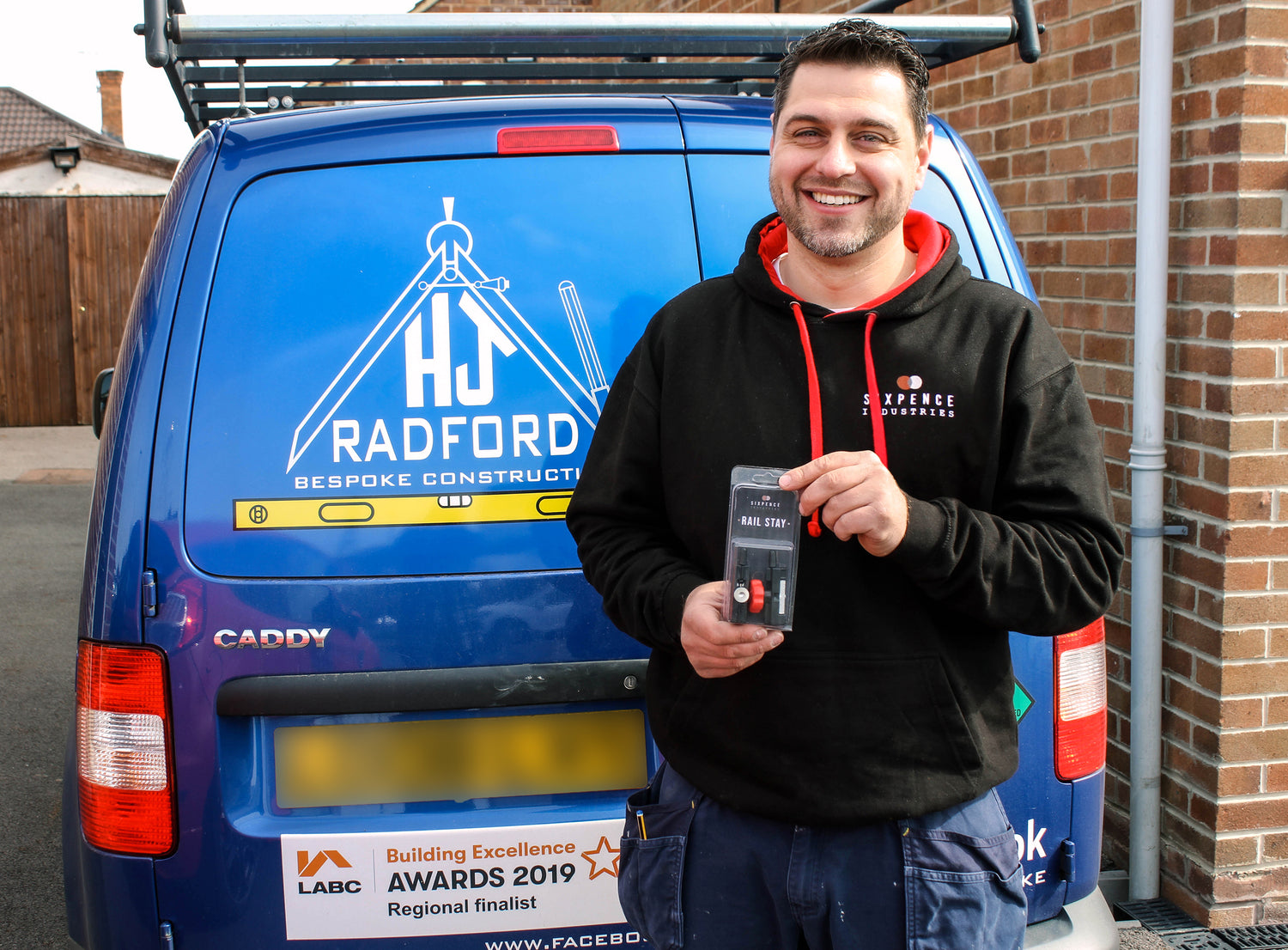 The inventor behind Rail Stay
My name is Harry Radford and I am the Director of Sixpence Industries Ltd and a prolific inventor/thinker. We are currently a small, family-run enterprise with myself and my wife Gemma at the forefront. It is primarily managed by my wife whilst I maintain my role in my business Harry Radford Bespoke Construction (which offers amazing opportunities for first-hand testing and further inspiration). Myself and Gemma have 2 young children together, a girl and a boy, and we have a passion for a challenge. Or we are just daft!

I have been a tradesman for over 25 years now. I was first apprenticed as a 1st fix carpenter with my Father (who was previously a lecturer in construction), rising quickly through the trades. Eventually I took the helm of the family building business as an accomplished multi-trade. I love sharing my knowledge with others and exploring new, effective ways of working. My goal is to bring the UK construction industry forward with innovative time-saving products.

The Rail Stay was developed after I found myself short-handed and having difficulty holding the straight edge scoring some plasterboard stacked in a client's hallway. Using only the materials to hand and my guide rails (usually reserved for wood work), I set the ball rolling with my laughable first iteration but quickly realised the scope of benefits.

I have dedicated years to developing our products, including the Rail Stay, with various iterations, testing and adapting whilst on the job. I'm keen for fellow tradesmen to realize the advantages that work can now offer them. Tradesmen working WHERE they want, WHEN they want without the restrictions of the great British weather and a lack of space to set up benches in a client's home. Like the guide rails, the Rail Stay has become a part of my everyday use and I am amazed as I keep finding more fantastic uses for it!

As we continue to grow, we hope to offer the construction industry more opportunities to save time and effort and to reduce waste with more products in development.
Harry Radford