Regular price
Sale price
£14.85 GBP
Unit price
per
Sale
Sold out
ZZem Screw is a simple and cost-effective door security solution. Out of an astonishing 2 million home burglaries each year in the USA, 60% gained access through the front door in seconds! (FBI Statistics). Most security technologies, like cameras and security lighting function AFTER the FACT. Most burglars don't care if you have a porch light or security camera. 
ZZem Screw extends the holding power of screws in hinges and latches deep into the door framing, reinforcing the weak points of your doors. This revolutionary design will help protect you and your family.
Each ZZem Screw Repair Kit includes everything you'll need, except a drill. There are multiple kit versions and sizes available, each for specific use cases.
Each kit includes:
ZZem Screws (of your selected size and quantity)
1 Drill Bit
1 Torx Bit
1 Phillip's Bit
Screws (size varies and quantity varies by your selection)
ZZem Screw uses
Repair stripped hinge screws on door jambs and doors.
Strike plate security.
Dead bolt security.
Gate hinges and latches.
Handrail brackets.
Door security.
Share
View full details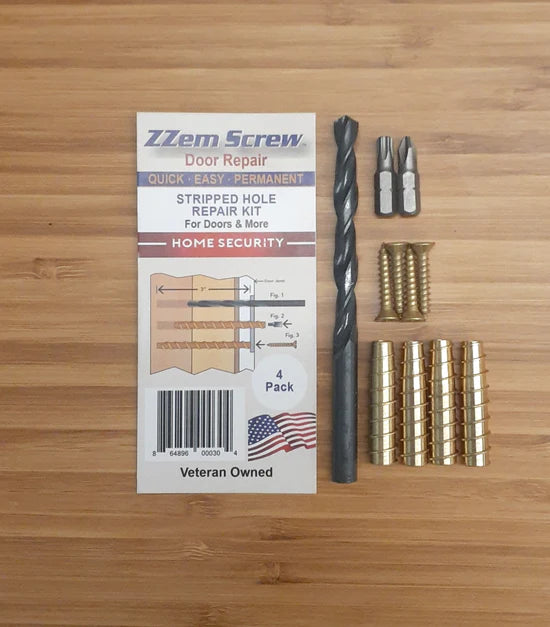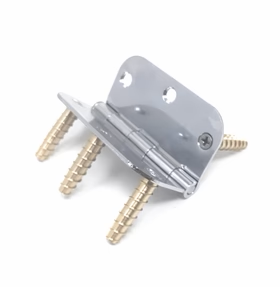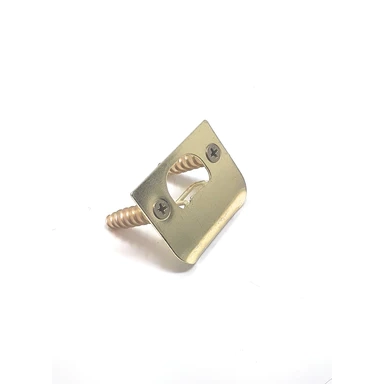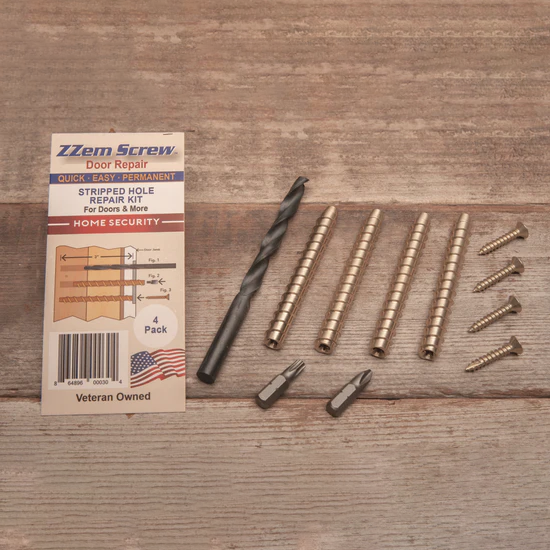 The inventor behind ZZem Screw
Dean Dougherty is the Inventor, Patent Holder and CEO of ZZem Screw. ZZem Screw is a patented technology that extends the holding power of screws in hinges and latches deep into the door framing, reinforcing the weak points of your doors. It's the permanent (and simple) fix for stripped door hinges and securing your doors, protecting your home against unwanted forced entry.
What is ZZem Screw and what need does it meet in the marketplace?
ZZem Screw is a security and strip screw repair system for doors. It works by securing your strike plate, dead bolt and hinges a total of three inches into the frame of the house. ZZem Screw not only works to secure your home from forced entry but can save you countless hours in repairing stripped screws in your doors, handrail brackets, gate hinges, and gate latches – just to name a few.

And there's nothing in the market right now like it. When I first started ZZem Screw, there was no permanent fix or a repair for doors that was simple, easy and came in a complete kit. ZZem Screw is also designed to use the same OEM factory #9 hinge screw so if you have a different finish like bronze or stainless steel, you can use that same #9 hinge screw, matching your hardware finish.
How did you come up with the idea for ZZem Screw?
Before ZZem Screw, I was a building contractor for over 20 years, and had installed and repaired thousands of doors in my lifetime. About 10 years ago, I was living in Reno and ran into a friend who asked if I could help repair her front door – she had to lift it up in order to open it. I thought I'd go over, throw some long screws on it and fix it. Well, I ended up going over, and the door already had 3-inch screws stripped out completely. Normally I would put sticks and glue in the hole, let it dry and then put it back together – this process takes hours. I said to myself, "There's got to be a better way."

I looked into the market and there was nothing to solve for this. So, to me, that was a wide-open market. Shortly after, I drew my first 2-dimensional drawing of the ZZem Screw. It took quite a few years to get off the ground, and the process of bringing it to market was a totally new experience for me. But today, ZZem Screw is at such an exciting phase in our growth, and I think that has a lot to do with the fact that it meets such a specific and important need in the marketplace.